Kumamoto, which lies in the Kyushu region of Japan, is not a typical tourist location but it has lots of things to do and attractions, among many, is the famous Kumamoto Castle. If you are ever in the region of Kyushu or thinking about going off the usual beaten path, then this city is the place for you to explore another side of Japan.
Here you will find what a typical Japanese city has to offer – local and international food, grand castle, beautiful gardens and shopping while just nearby are the interesting nature – caves, lakes and Onsen (natural hot water springs).
Here is our recommendation of the best things to do in Kumamoto:
Visit Kumamoto Castle
The 2016 earthquake that brought Kumamoto to its knees did some serious damage to the castle, which up until then had been the city's top tourist attraction. However, don't be put off just because you can't go inside. Plenty of visitors are still heading up to the castle to check out the earthquake damage – when you see the size of the boulders scattered around you'll get an idea of the earthquake's severity. It's a nice walk around the perimeter, and close to plenty of other attractions.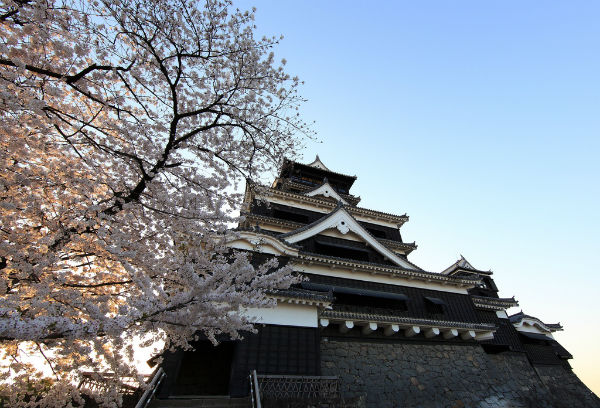 Take a walk in Suizenji Koen garden
Suizenji Park has always been popular, but even more so now that the castle is out of action. It's not a huge place, but certainly beautiful and well worth visiting. The tea house there is a nice place to stop off and enjoy the view with some hand-whisked matcha and a small sweet (two to choose from – both delicious!) It's not super cheap to go in to make the most of it – enjoy the walk and soak up the atmosphere of a traditional Japanese garden.
Ezu Lake
Get off the tram at Shiritsutaiikukan-mae (close to Suizenji Park) and cross to the other side of the road. From there, follow the stream down a picturesque walk to Lake Ezu, one of the nicest areas of natural beauty within Kumamoto City. The lake itself is split into two parts. At the top, grab a burger from the Boathouse restaurant where you can also hire canoes and paddle-boats to sail around in the water. During the summer, kids go swimming at the edge of the waters. A popular place for walking, cycling and jogging, the second half of the lake takes you down on a sizeable walk past the zoo down to another park at the end.
Eat local Japanese food
Kumamoto is famous for being a culinary city, and there is nothing that garrulous locals like better than visiting restaurants and having a great night out. While in Kumamoto, you simply must try some local dishes. Famous for horse meat, the most popular way to eat it is raw, like sashimi (called basashi) where it is served with raw ginger, garlic and spring onion. An absolute taste explosion! However, it can be quite chewy, so if that doesn't take your fancy, try it in a hot pot or a croquette. Another Kumamoto delicacy is karashi-renkon – lotus root stuffed and smothered with spicy mustard. A famous local sweet is called ikanaridango and can be bought outside Suizenji park. For a top local restaurant, try Yokobachi – you'll need to book ahead, or if not, try one of their sister restaurants.
Eat cosmopolitan
As well as having fantastic local eateries, Kumamoto is a great place for international dining. Kumamoto locals are real foodies, and in the city, you can find all different cuisines to try. Italian food is very popular in Japan, and so you can find plenty of places to grab a pizza or some pasta. Indian and Sri Lankan food is very popular, and Ruvani Sri Lankan is a top choice if you like spice. For something a bit more suited to the Western palate, try Billy Bento's grilled cheese sandwiches or go to Australian restaurant Manly. Ni No Ni is the best Chinese in town – those dumplings are to die for. For veggie dishes, try Private Lodge. Kumamoto is not the place to visit on a diet – be prepared and pack your fat pants!
Indulge in Art Galleries
Kumamoto is a small city but has plenty of cultural attractions, especially for art fans. The CAMK (Contemporary Art Museum Kumamoto) is very central and the permanent exhibition is free. They have a nice cafe there next to the gift shop, which is always worth checking out. The temporary exhibitions are often pricey but usually well worth it. Other art galleries in Kumamoto include the Kumamoto Prefectural Museum of Art, the Chibajo branch of the same gallery, the Shimada Museum, and plenty of other small, independent galleries.
Splurge or window shop at Shopping Arcades
Shopping arcades are hugely popular in Japan, and Kumamoto's Shimotori and Kamitori shopping streets are a great place to splurge. From high-end fashion to quaint boutiques, chain restaurants and little coffee shops, there is something for everyone down this long, covered walkway. Particularly nice in the winter with Christmas lights dripping from the roof, the arcade is bustling from ten in the morning right through until midnight, especially on the weekend.
Explore Reigando Cave and the 500 Buddha Statues
A little bit out of town, this trip is well worth the effort – particularly in high season when other tourist attractions are jam-packed. Miyamoto Musashi was a samurai swordsman and spent his later years writing practical, philosophical guides. The cave on this hillside is where he lived – and died – as a reclusive hermit. Scattered across the hillside are 500 statues of the followers of Buddha who attained enlightenment. This hillside is magical, gloriously beautiful, and often missed off tourist itineraries. Check it out!
Onsen
Visiting the hot springs it a must-do in Japan, and you'll find plenty of places to try the waters in Kumamoto. Near Ezu Lake is Baten-no-yu, one of the most luxurious places for a dip in the city. At the other end of town, try Shiro-no-yu which has great roten-buro (outdoor baths). As well as other small, local onsen within the city, you can also find plenty of places to bathe on the outskirts of town, particularly if you're heading out in the direction of Aso, Tamana or Yamaga.
Take a day trip from Kumamoto to Aso
If you've got your own car, taking a day trip out of Kumamoto is a great idea as the surrounding area is so beautiful. Nearby Aso is an area of outstanding natural beauty – the Milk Road is one of the most picturesque places you could go driving around Kumamoto. Rolling fields and active volcanoes make for an amazing backdrop. Take a picnic or stop off at one of the hot spring towns for total relaxation.
Related articles:
Top 5 Must Visit Places in Kyushu
Top 5 things to Do in Nagasaki – One Day Itinerary
Itoshima, Day Trip from Fukuoka in Summer, Kyushu